About us
MISTRY is a young, home-grown label that started out with the intention to expand from an existing family-run business, into an independent authority in the fashion accessories space.

We are a brand that is proudly Indian in its entirety. All of our raw materials are produced and sourced in India, and every bag is handcrafted and is single-artisan made.



Bearing a strong focus on geometry & elements of modern design, our bags are crafted from an assortment of leathers sourced from large leather factories. It is this repurposing of industry off-cuts that allows us to work with a variety of leather finishes that each lend a unique aesthetic to the product.

Since our inception in 2020, we have received features in India's largest editorial publications, including Vogue, Grazia and Bazaar. Our goal is to build on this growth in a sustainable manner, and to shape MISTRY into a household name.
Come see us! GK-1 N BLOCK, N-17 GROUND FLOOR
WHOLESALE AND PRIVATE LABELLING
WE DESIGN AND PRODUCE FOR YOUR BRAND
MISTRY HAS A DESIGN TEAM THAT WILL DESIGN AND DEVELOP FOR YOUR BRAND, WE WILL BRING YOUR DESIGN TO LIFE | OUR MINIMUM QUANTITIES RANGE FROM 20-50 PCS PER STYLE DEPENDING ON THE COMPLEXITY
WE WORK WITH OVER 30+ INTERNATIONAL BRANDS FROM FRANCE, SPAIN BELGIUM AND USA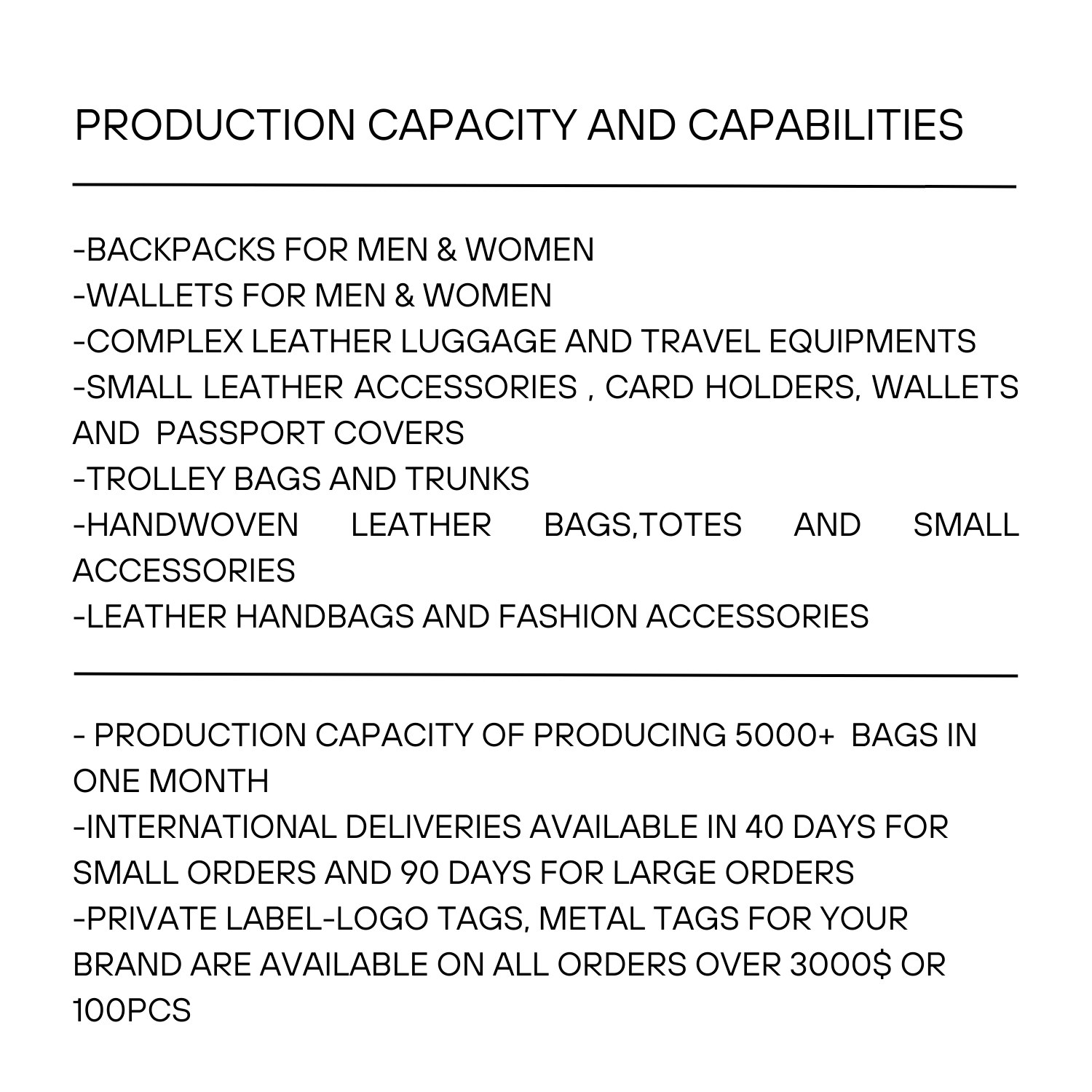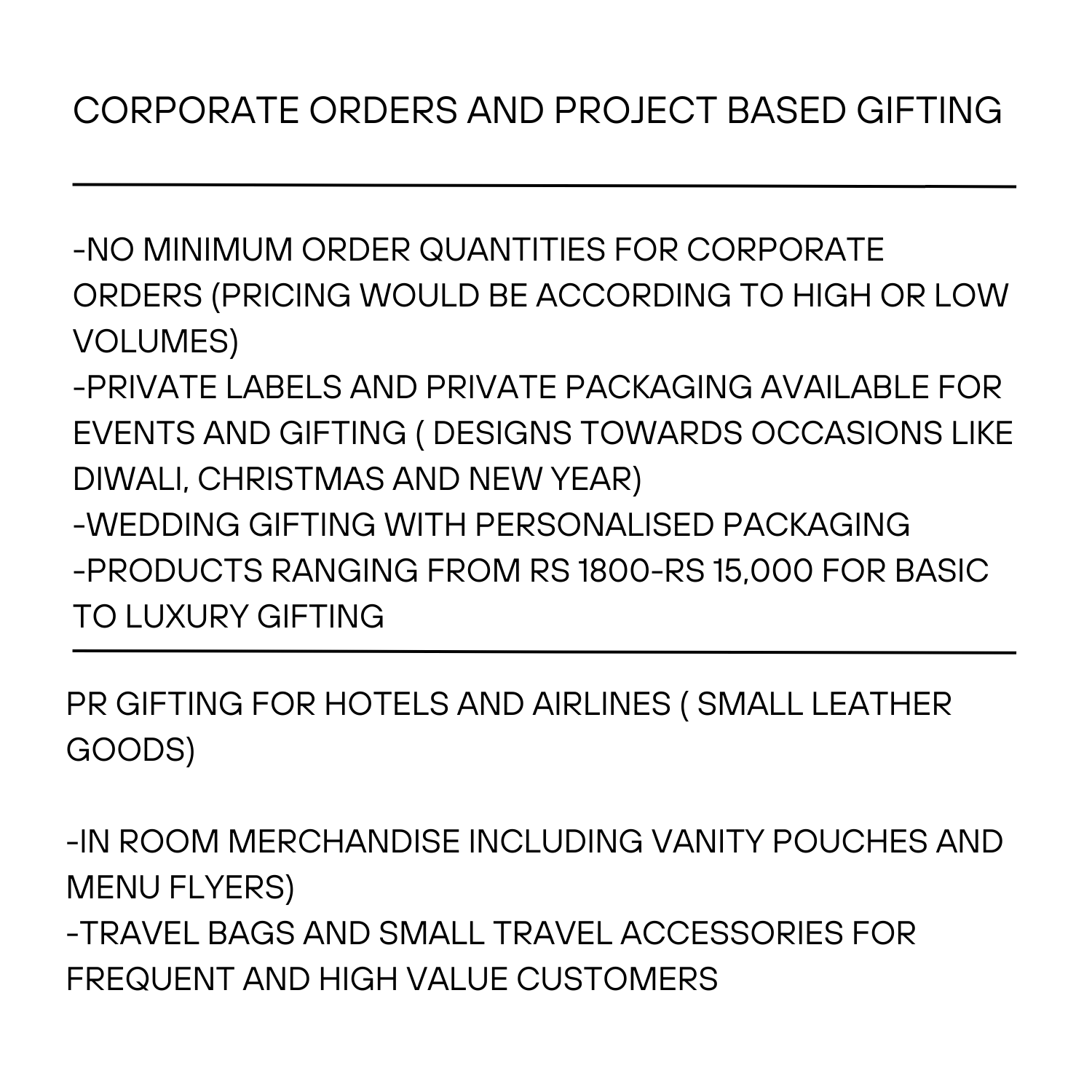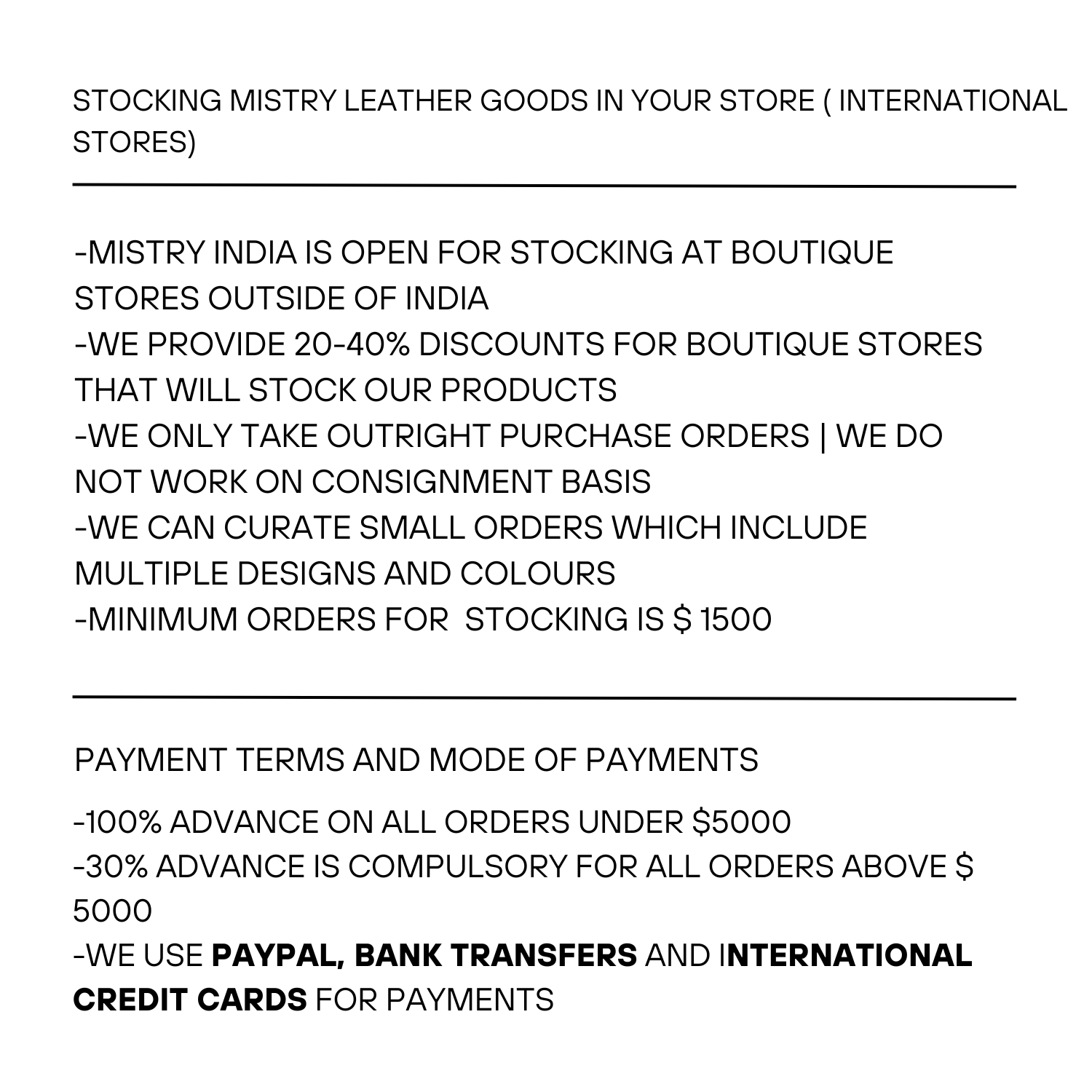 CONTACT INFORMATION
WHATSAPP +91 9654076410 | EMAIL- RONAK@SHOPMISTRY.COM
Order
YES WE SHIP GLOBALLY WITH FEDEX AND DHL | WORLDWIDE SHIPPING TAKES 7-8 DAYS
WE WILL WORK WITH YOU TO GROW YOUR BUSINESS | CUSTOMISE YOUR DESIGNS WITH US | WE RECOMMEND STARTING WITH 4 DESIGNS IN 4 COLOURS AND 20 PIECES TO UNDERSTAND YOUR CUSTOMERS AND THEIR FEEDBACKS
OUR TEAM WILL HELP YOU CHOOSE FROM DESIGNS AND OVER 150+ LEATHER OPTIONS.